There have been many debates over the past few years, about taking your kids out of school in term time to save on the cost of travelling during the school holidays, but if you choose to stick to the rules, here are some top tips for keeping costs down for your next family holiday, even if it is in the Summer Holidays!
1 Book Early
If you're able, book your family holiday as early as you can! You can get some really great flight or holiday package offers and save yourself £100s if you book in January for holidays in July/ August. We were thinking of travelling to the South of France again this year in August and when I checked Easy Jet prices for flights to Nice in January it was as cheap as £40pp return! That's @ £200 for a family of 4 if you add on luggage!
If you do leave booking your holiday until May or later, you may struggle to find tickets for under £200. It's the same with Eurotunnel and Ferries. You can always keep track of flights on Google Flight Tracker and Jacks Flight Club.
A lot of the tour operators give you the option of booking Low Deposit Holidays at the start of the year! This means you can bag yourself a great holiday with deposits from @ £50pp and then pay off the rest of your holiday nearer the time you travel! Check out our article on Low Deposit Holidays.
2 Time Your Travel
Always check out your kids schools year planner. Sometimes their holiday dates will vary from that of others and you can make use of days off and inset days where you may manage to get away on a cheaper date to fly. We are going away on a 4 night break to Ibiza in May as our kids school has 2 days where its shut (Inset day then Polling day) followed by a Bank Holiday weekend. This means school is closed for 5 consecutive days out of the usual peak school holiday dates!
If you're choosing to go during the school summer holidays, check which weeks are the cheapest to travel. The last two weeks of August are usually less expensive as the majority of travellers like to get away earlier in the holidays. Shop around and you could save £100s going a week later in August than you originally planned.
Pick the cheapest day of the week to travel. Sometimes going on a Tuesday or midweek works out more economical than flying on weekends or Mondays.
3 Opt For a City Break Instead Of A Beach Holiday
You can take the kids on a wonderful city break to warmer climates during the school holidays without much of a price hike than that of a beach holiday. Think Spanish or Italian cities! These sort of trips can be educational and fun too. Remember to fly midweek for cheaper option and you can find great self catering apartments on sites like Booking.com or AirBnB.
4 Rent A Villa Or Apartment
Why not go away with extended family or friends with kids. Sometimes sharing a large villa can work out cheaper for a bigger group. Or alternatively, if you don't want to share with others, you can rent places with communal pools.
Some villa owners may be more willing to haggle and just asking the owner direct may get you a lower price than advertised! Worth a try! Check out our guide to Cheap Holiday Rentals.
5 Stay In The UK Or Cheaper Destination
If you book as far as 12-18 months in advance you can get some great deals at places like Center Parcs. Take your own food and even bikes with you to save on costs while you're there. Other places like Wales and Scotland have stunning scenery and plenty to do, plus camping is another fun option which kids always love and there are some great sites around which have lots of facilities, entertainment and more!
So you may usually opt for the most popular destinations such as the Spanish islands but you could save up to a ⅓ by staying on mainland (e.g. Costa Blanca). Sometimes airlines launch new routes which can cost significantly less too, for example British Airways will run new routes from Heathrow to Ljubljana in Slovenia and Montpellier in the south of France next summer. There are also certain parts of countries which are beautiful but cheaper than where the masses go. You don't always have to follow the crowds.
6 Have Your 'Summer Holiday' At Half Term
Choose to go away in either the May or October Half Term and you could save yourself £100s of £s! For example, this exact same Thomas Cook package holiday to Lanzarote costs £3,793 in July (Summer holiday dates) for a family of 4 or £2,849 in October (Half term dates). That's a £944 saving! Lanzarote has year round sunshine so you would still be pretty much guaranteed glorious weather too!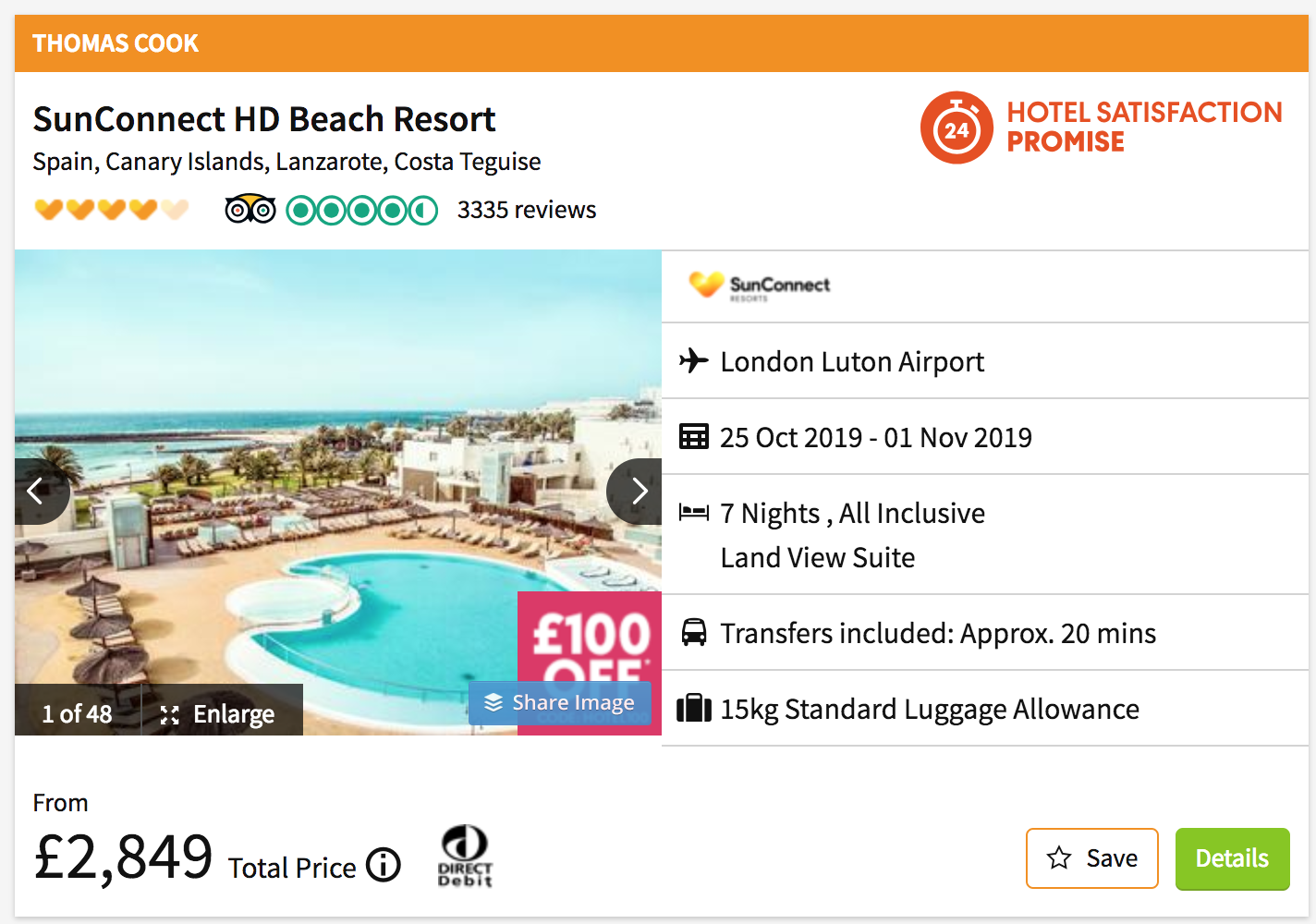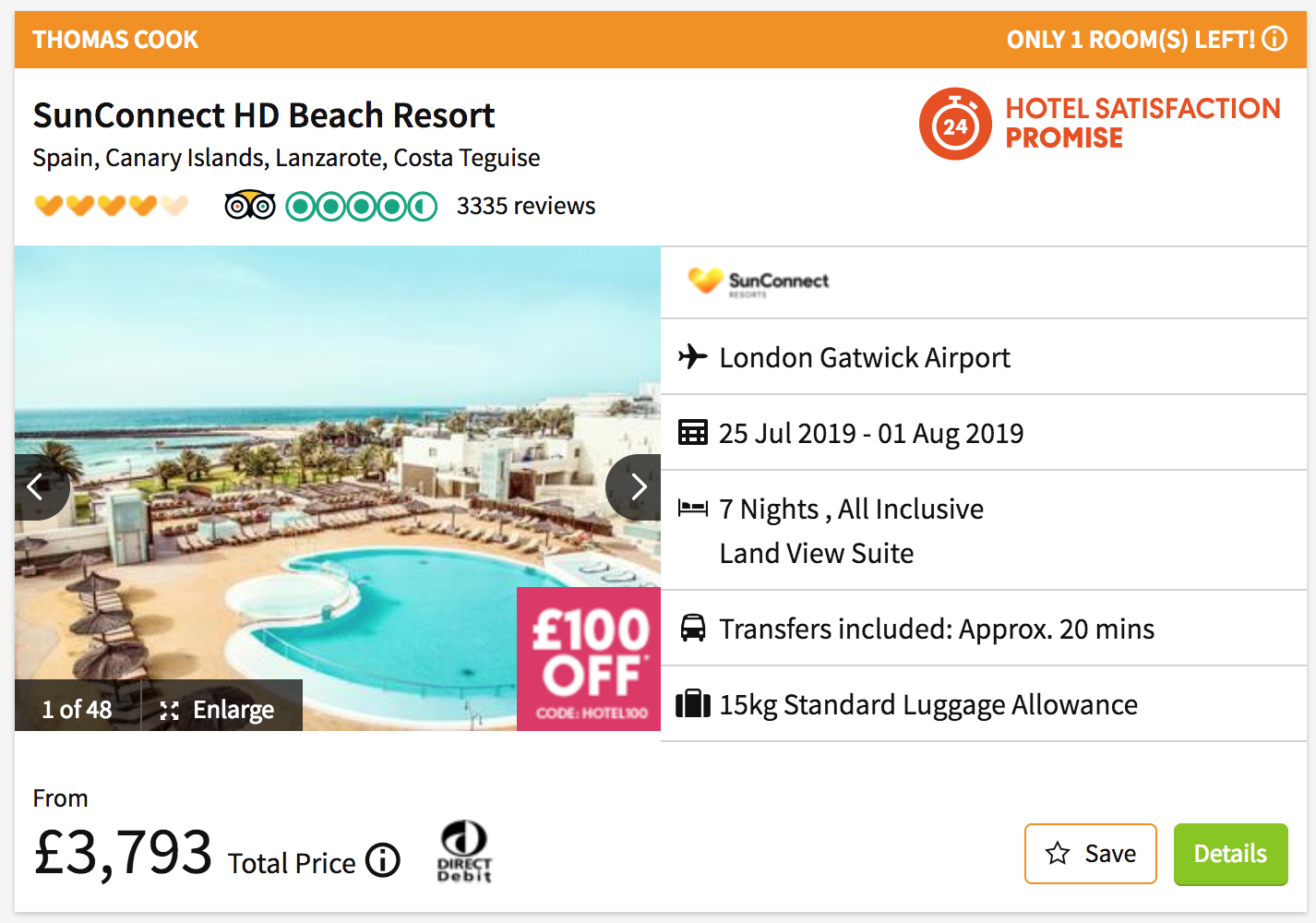 Alternatively, if you want a full 2 week holiday you can save money going away at Easter break instead of Summer holidays!
7 Consider Flying From A Scottish Airport
As the school holidays are slightly different in Scotland you can fly from Glasgow or Edinburgh and save lots, rather than flying from say Manchester or Newcastle. If you don't mind the extra drive in the car it could shave a lot of money off the same holiday- just flying from a different place!
8 Stay In A European Holiday Park
You may not fancy camping but there are plenty of holiday parks where you can have a mobile home break in European parks. You will still get the pool, entertainment and water slides with no shortage of friends to play with! Check out our handy guide on Cheap Holiday Parks And Caravan Holidays.
9 Book Direct
Book your own flights with the help of websites like Skyscanner. Booking flights online using price comparison tools like Skyscanner or Momondo will make it much cheaper than going to your local travel agent. Some airlines don't allow Travel Agents to sell their tickets at a lower price than offered by airline itself so it makes more sense to book directly with them instead. Take a look at our Cheap Flight Guide for more tips!
10 Look Out For Child Free Places
It's worth speaking to a travel agent as they could find you a cheap package deal that you would have otherwise missed if you were looking online! There are plenty of "kids go free" holidays around! We have done the hard work for you and created some handy guides to free up your time and make it easier to find these great offers! Head to our Kids Go Free guide here or our Best Package Holiday Booking Codes article here! 
So all it will take is a bit of research by parents, some flexibility and compromise and you could save on your family holidays every time!